Learn More about New Products 2023: Saturn 3 Ultra & Neptune 4 Pro & Mars 4 Ultra......
ELEGOO Saturn 3 & ELEGOO Saturn 3 Ultra
Unlike the Saturn 3, the Saturn 3 Ultra will be equipped with a WiFi file transfer function. The new ACF film can help print up to 3x faster than the previous printers, with our soon-to-be-released Fast resin! Additionally, it has an integrated Z-axis ball screw and has been upgraded to a simple 4-point leveling system.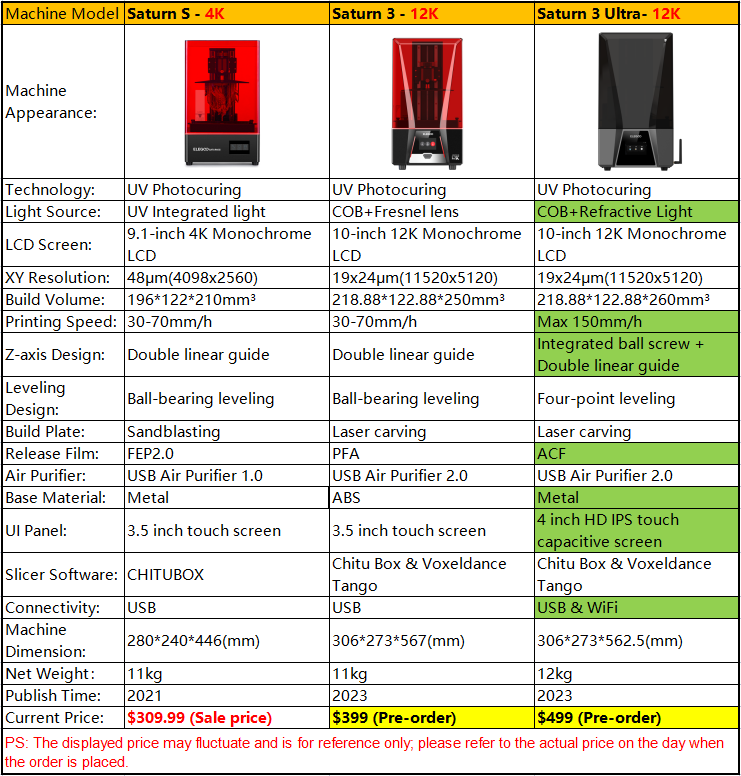 👉 
Saturn 3 Ultra 12K MONO MLSA 3D Printer
👉
Saturn 3 12K MONO MLSA 3D Printer
ELEGOO Neptune 4 & ELEGOO Neptune 4 Pro
The Neptune 4 Pro printer is capable of providing print speeds of up to 500mm/s(10x faster speed), which greatly enhances your printing efficiency. Its dual-axis has been upgraded to full-metal guide rails and ball U-shaped bearings, allowing for more precise and stable printing. It features an exclusive segmented heated function, meaning that the machine has two heating partitions and it can switch the aimed heating area based on the model size. The two partitions can also be turned on and off manually for more precise temperature control. This will help reduce energy consumption and save power.
Of course, the machine supports manual and auto leveling ( We hear the community voice and improved to 121-point leveling) to complete the leveling process. Some advanced functions like input shaping and pressure advance to achieve accurate and smooth models are also included!
👉 
Neptune 4 Pro FDM 3D Printer
👉 
Neptune 4 FDM 3D Printer
ELEGOO Mars 4 & ELEGOO Mars 4 Ultra
Compared with previous models, the ELEGOO Mars 4 Ultra has upgraded to a 9K resolution and is equipped with WiFi file transfer functionality. In addition, the light system features a COB+Fresnel Collimating Light Source system, ensuring a more uniform and consistent lighting source effect. With the brand new ACF film, its printing speed can be up to ⚡3 times faster than other Mars models!
👉 Mars 4 9K MONO MSLA 3D Printer
👉 Mars 4 Ultra 9K MONO MSLA 3D Printer
ELEGOO Mars Mate
👉 Mars Mate Large Air Purifier
The ELEGOO Mars Mate air purifier is specifically designed for resin printing. It boasts a large size of 210x247x410 mm/8.26x9.72x16.14 inches, ensuring efficient and long-lasting purification. Equipped with a high-density activated carbon cartridge, it can effectively absorb resin odor and achieve a TVOC purification efficiency of up to 95%!!!

This model features auto switching between low-speed and high-speed modes, and its ultra-low operating power of 6W significantly reduces working noise to 35dB, making it both energy-saving and silent.

Furthermore, Mars Mate has been crowned as the 2023 🏆MUSE Design Awards Silver winner within the Product Design for its look and user-friendly performance. We believe this large air purifier will be a valuable tool for you in creating a fresh printing environment in the future.